In this rapidly changing home market, we are getting more and more calls for estimates on the values of properties, since sellers are starting to read about how the market may have topped out.
I recently spoke with a potential client and gave him my evaluation of his property. The home is a near tear-down property, built in the early 1940's, with a pool that is sinking and unstable. The inside of the home has no air-conditioning, and all fixtures, plumbing and paint are severely dated. The home needs a new roof, and a massive 100 foot high tree in the backyard must be removed, as it is the cause of the pool issue.

I understand homeowners don't want to hear negative things about their property, but the market will tell them the same things that I am telling them, just a few weeks later, and in a much more brutal fashion with offers that will ultimately disappoint or enrage the seller. The owner decided to list his property with another agent who told him his house would be worth far more than my estimate.
The property has now been on the market for 40 days, with open houses held every weekend, and the first agent has now bailed out of the job. Agent number 2 inherits the same problems that agent number 1 did: an unrealistic owner who is not listening to the market or his agent.

I believe his home should sell for $700,000. The land value in his area makes it almost worth that alone. Take a look at two Automated Valuation Estimates (AVM's) for his property.


The "helpful" website then muddies the waters further with this: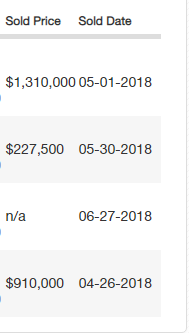 AVM's all come with a major disclaimer (and they should) that they don't take the place of a property analysis by a professional Realtor. Yet, sellers are in for a rude awakening when they put their home on the market relying on AVM's AT ALL to do the heavy lifting. Consider this graphic from a website that claims to have an industry leading 2.9% discrepancy from their AVM to the actual sold price:

Perhaps some of you figure "I'll get 3 or 4 AVM's from sites such as Zillow, Trulia, Realtor.com and a bank. Then I'll take the average amount of the 4 and boom! There's my suggested price."

Doing that in the case above would result in an asking price of $909,000.If his home could sell for 2.9% above or below that $909,000 figure, it could sell for $882,650 or up to $935,500. That's a window of $52,850.
The 3 Take-Aways:
1.) The website claiming the most accurate AVM says they are within 2.9% of the actual sale price. The pricier the home, the bigger the window is for error. They claim to be within plus or minus 10% of the actual price 81% of the time. That means in 1 of 5 homes sold, the best AVM out there didn't even come within 10% of the final sale price of the home! This can't be done by computer.
2.) AVM's rely on tax records, local recent sales and little more..Consider these scenarios..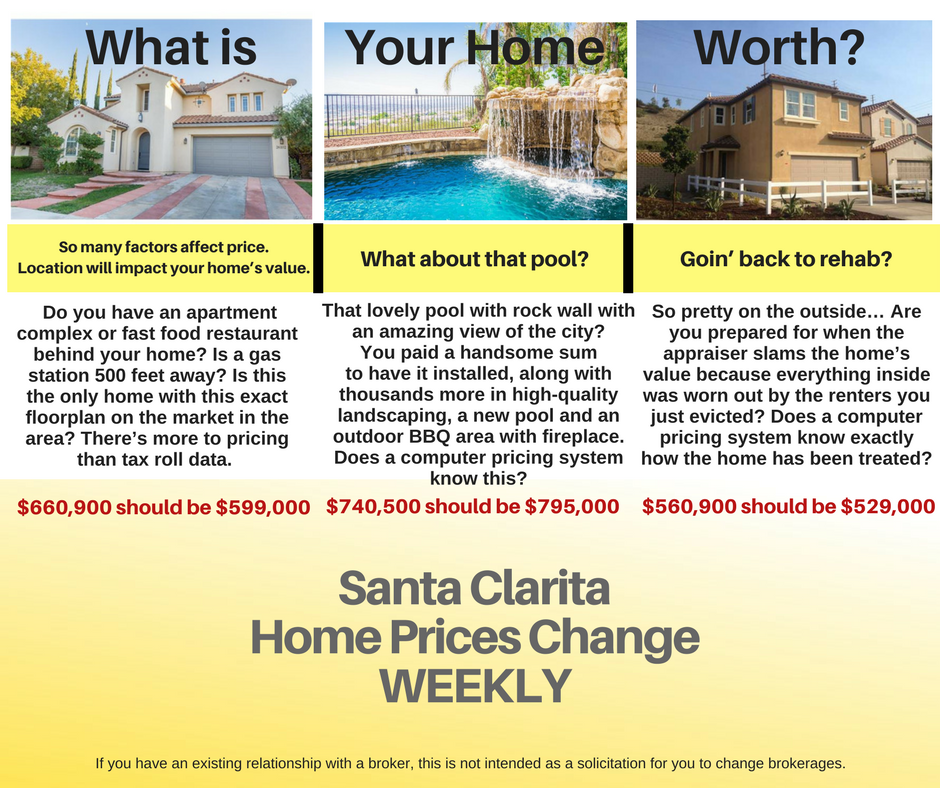 3.) AVM's don't take into account trends in neighborhoods, nor do they account for nationwide price pressures caused by interest rates, or home-builder sentiment.
REALTORS DO.
I'd love to help you when the time comes to list your home. Until then, sure go ahead and check an AVM such as a Zestimate. But if you start to believe the number, there's a toll-free hotline you can call to "unbrainwash" yourself.. It's at the top of this page! Call me.